Movie Trailer
Summary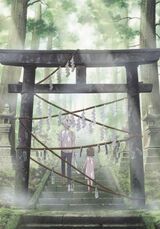 Hotaru met Gin during summer when she still a child. Every year without fail, she will come and visit Gin on summer holiday. Year by year, Hotaru slowly grows into a young girl, but Gin still stays the same. Hotaru started to develop feelings on him, but fully aware of the fact that they could not get close enough, or even touch each other...
How will things going on between them? An early project of Yuki Midorikawa, the creator of Natsume Yuujinchou series. Before Natsume and Nyanko-Sensei, there was Gin and Hotaru met in the forest...
---
Affiliation

External Links

Community content is available under
CC-BY-SA
unless otherwise noted.